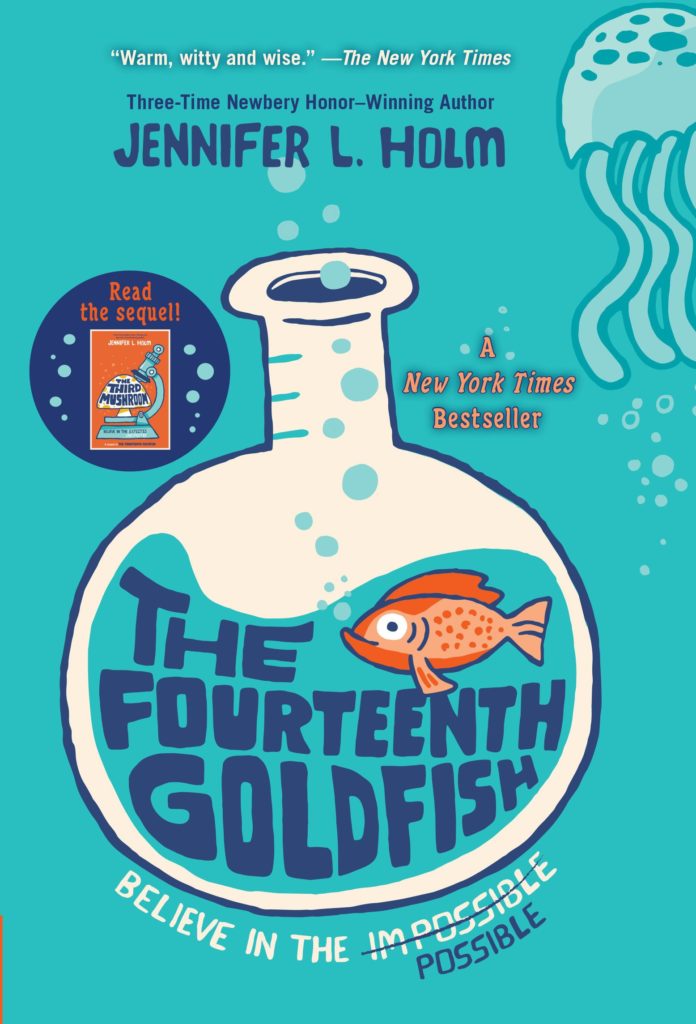 Series: The Fourteenth Goldfish
Author: Jennifer L. Holm 
Publisher: Random House Books for Young Readers
Publication year: 2014
Age range: 8-12 years
Number of pages: 208
---
"The Fourteenth Goldfish" by Jennifer L. Holm is an exciting middle-grade chapter book, which wonderfully combines a great story and a ton of humor with some serious messages about ethical implications of science, the circle of life and importance of change.
The main character Ellie is a bright and curious 11-year-old girl, who likes doing puzzles and experimenting with breakfast recipes. Her drama teacher mom and actor dad would like Ellie to be passionate about theater, but she hasn't found her passion yet. At least she knows it's definitely not theater.
At the beginning of the book, Ellie's life isn't much fun: she doesn't like middle school and has lost her best friend to volleyball. But when her scientist grandfather shows up looking like a teenager and claims he has found a cure for aging, Ellie discovers a whole new world: the world of science! Thanks to her grandfather, with whom Ellie now has to spend most of her time and even go to school together, she learns a lot about famous scientists and their discoveries. And she realizes that science is everywhere, even in cooking! So when Ellie's grandfather asks her to help him take away the rare jellyfish that reverses the aging process from his laboratory, she is excited to embark on this adventure.
I like how the story encourages kids to use their imagination and believe in the possible. I also find that the narration of the audiobook by Georgette Perna is awesome!
Full of hilarious situations, quirky characters and scientific facts, this story will be surely liked by all kids passionate about science and the immense opportunities for great discoveries that it offers.
---