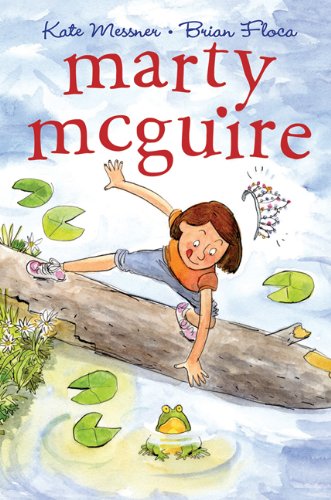 Series: Marty McGuire
Author: Kate Messner
Illustrators: Brian Floca
Publisher: Scholastic Press
Publication year: 2011
Age range: 7-10 years
Number of pages: 160
---
"Marty McGuire" by Kate Messner was a truly enjoyable read! Being the first book in the chapter book series of the same name, the story includes facts about wildlife, especially raccoons and frogs, shows the work of a wildlife rehabilitator and expresses admiration for Jane Goodall, the famous expert on chimpanzees. The story also features such important topics as sharing friends, being patient and trying new things.
The main character Marty is not a regular third-grade girl. While the other girls play dress-up, Marty would rather catch frogs in a pond with boys. She is brave, loves wildlife, and has a lot of energy. Together with her best friend Annie, Marty catches crayfish, climbs trees and pretends to be Jane Goodall saving chimpanzees in Tanzania.
That is, until Annie starts a dancing class and seems less interested in playing with Marty. As if things couldn't get worse and despite her dislike for frilly dresses, glitter and dancing, Marty is forced to be the princess in the upcoming class play The Frog Prince. Through this experience, Marty will discover a new talent and learn important lessons about improvisation, friendship and acting responsibly.
The story, told from Marty's point of view, is engaging and funny, and the black & white illustrations are adorable. I'm sure that kids who love wildlife and theater will be especially delighted with this book!
---