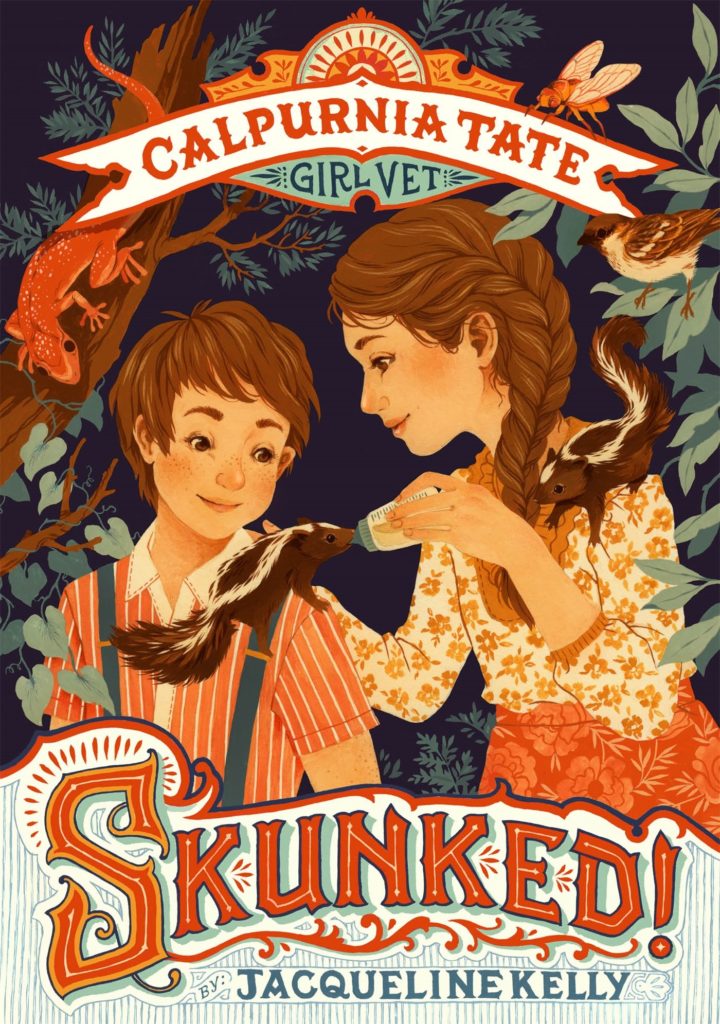 Series: Calpurnia Tate, Girl Vet
Author: Jacqueline Kelly
Illustrators: Teagan White & Jennifer L. Meyer
Publisher: Henry Holt and Co. 
Publication year: 2016
Age range: 7-10 years
Number of pages: 112
---
"Skunked!" is a lovely opening of the "Calpurnia Tate, Girl Vet" chapter book series by Jacqueline Kelly, which share the same characters with her middle-grade books about the aspiring animal doctor. The story, set in 1901 in rural Texas, is both heartwarming and full of facts about flora and fauna of the region, and especially skunks.  
The main character Calpurnia, or Callie, is a smart 12-year-old girl who loves science and wants to be a vet. She has a Scientific Notebook, where she carefully notes her observations about wild plants and animals, and a collection of bones and fossils that she treasures in her room. Callie is lucky to have two mentors who support her interest in science: her scientist grandpa and the local vet.
Being the only sister to six brothers, Callie is especially close with her 11-year-old brother Travis, who is a softhearted animal-lover ready to adopt every wild creature he comes across. So when Travis brings home two baby skunks, one of which is a runt of the litter and seems dying, Callie can't say no to Travis' plea for help. Knowing that skunks aren't appreciated by grown-ups, the two kids have to find a way to save the baby skunk while keeping this whole adventure a secret.
I was truly touched by the loving relationship between the two siblings and Callie's readiness to help her brother even at the risk of her own interests.
This heartwarming story with its lovely characters and beautiful, realistic illustrations will be a favorite for all animal-loving kids.
---