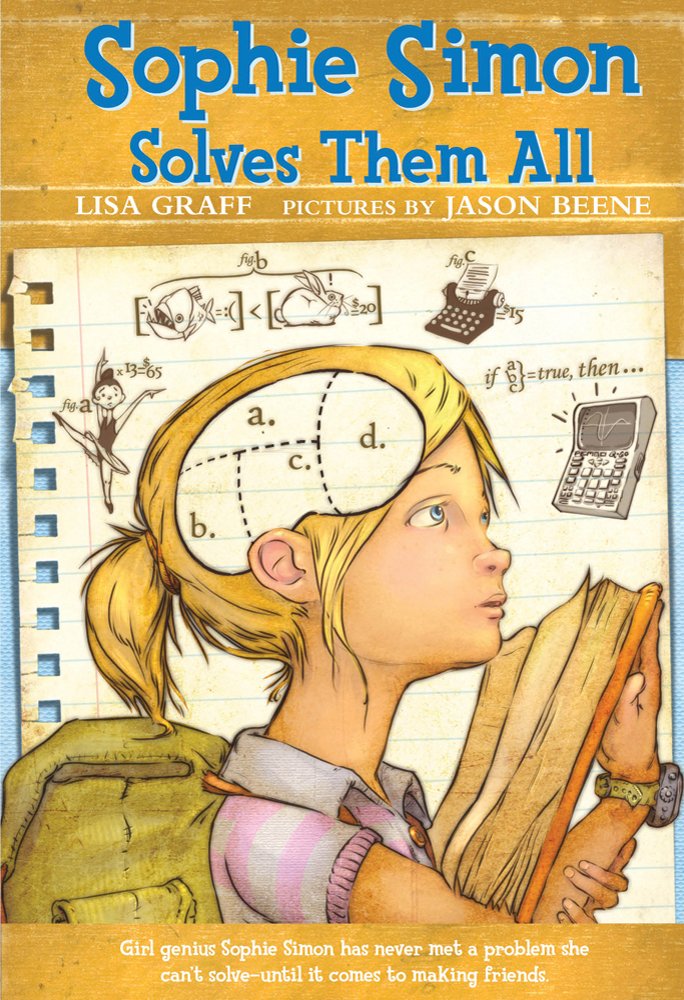 Author: Lisa Graff
Illustrator: Jason Beene
Publisher: Square Fish
Publication year: 2010
Age range: 8-10 years
Number of pages: 112
---
"Sophie Simon Solves Them All" by Lisa Graff is a humorous chapter book, which combines unique characters, scientific and philosophical concepts and the eternal struggle between parents and children about what the latter should like and do.
The main character Sophie is a third-grade genius, who is smart, serious, and quite antisocial. Instead of spending time with other kids, Sophie tinkers, reads big, fat books and does science experiments. Her favorite subject is math, and especially the very complicated kind of math, calculus. She studies it when riding the bus to school and at night under the covers.
Unfortunately, Sophie's parents don't understand her passion for math and would rather prefer her to be a regular kid and get friends. But Sophie doesn't want to have friends, considering them a total waste of time. Instead, she dreams about a graphing calculator, Pembo Q-60, which costs 100 $. When her parents refuse to buy one for her, Sophie has to find a way to get the calculator on her own. She doesn't have enough money, but some of her classmates are ready to pay Sophie if she can solve their own problems: getting out of a ballet recital, having a rabbit, and finding a great news story.
Although all the grown-ups in the book have a somewhat cartoonish feel, always trying to impose their will on the kids, I guess this portrayal may be relatable to many children. So, in my view, reading this story would be beneficial to all parents as a reminder to listen to their kids more.
I also liked the glossary at the end of the book, explained in a funny and entertaining way, as well a cool recipe of the saltwater taffy.
This story, told in a fun, lighthearted tone, with cute black & white illustrations, is a great find for all math-loving kids and their parents!
---