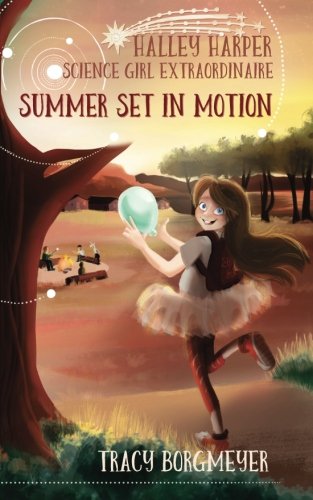 Author:Tracy Borgmeyer
Publisher: Tandem Services Press
Publication year: 2017
Age range: 9-12 years
Number of pages: 140
---
I really liked "Summer Set in Motion", which is the first book in the "Halley Harper, Science Girl Extraordinaire" chapter book series by Tracy Borgmeyer.
The main character Halley is a 9-year-old girl, named after Halley's Comet. She loves ballet and poetry, however her favorite thing in the whole world is science. She does a lot of science experiments at home, but, unfortunately, they often end up pretty messy.
This doesn't please Halley's mom, and when the last experiment with Oobleck leads to a total disaster in the kitchen, Halley is on the verge of being banned from doing science at home. Halley feels desperate, but luckily her mom agrees to send her to a summer science camp with her best friend Gracelyn.
At first, the science camp doesn't seem welcoming to Halley and Gracelyn, being the only girl campers there. But soon they start having fun with the team challenges, where they need to use science to win, and even make friends with a boy camper. And when strange accidents start to happen, Halley has to use her courage and scientific skills to try to prevent the camp from being closed forever.
I loved that, although Halley's dad calls her Miss Disaster, he actually supports Halley's interest in science. He even built her a treelab playhouse, where she can safely do her science experiments, and gave her his old science books.
The story seamlessly integrates explanations of Newton's Laws of Motion, Non-Newtonian fluids, Newton's Cradle, as well as quotes by famous scientists. In addition, kids will love the detailed instructions for Oobleck and the Balloon Rocket Race, provided at the end of the book.
This engaging story with great characters, messy science experiments and fun adventures will be a perfect fit for STEM-loving kids.
This is a longer book (around 30-35k words), with a few black & white illustrations, and is best suited for 9-12-year-old kids who are confident readers.
---