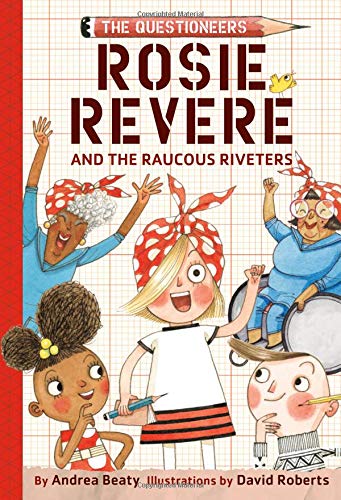 Series: The Questioneers
Author: Andrea Beaty
Illustrator: David Roberts
Publisher: Amulet Books
Publication year: 2018
Age range: 6-9 years
Number of pages: 144
---
I had a lot of fun reading "Rosie Revere and the Raucous Riveters", the first chapter book in a new series, "The Questioneers", by Andrea Beaty.
The story is a great combination of funky inventions (e.g. SnakeAway, a snake-scaring machine), quirky characters (like Rosie's great-great-aunt flying on a cheese-copter or her joyful friends, the Raucous Riveters, who built airplanes during the World War II), as well as great messages (dealing with pressure, the power of friendship, overcoming fears). In addition, the book pictures the real process of engineering: brainstorming, research, sketching ideas, design, making prototypes, testing and redesign based on performance.
The main character Rosie is a creative and ambitious little engineer. She loves building machines from old gears, wires, and broken motors, and she gives her models hilarious names (Foolhardyflop, Creative Catastrophe, Magnificent Mess, etc.). Her inventions often fail, but Rosie never gives up. Her perseverance is really admirable.
Rosie must prove it one more time when the Raucous Riveters desperately need her help to build a painting machine that would allow a riveter with broken wrists to participate in a mural painting contest. Together with her project-minded and supportive friends, Ada Twist and Iggy Peck, Rosie works really hard and even finds enough courage to approach a person she's been scared of for a long time.
This book is an ode to the millions of women who worked in factories of all allied nations during the World War II, building airplanes, ships and tanks and making guns and bullets needed for the war effort. It's very special for me, as my paternal grandmother was one of those women.
I find it helpful that there's a lot of extra information about the female riveters at the end of the book as well as an encouragement for kids to talk with older people and learn their stories.
This fast-paced story with fun 2-color illustrations, which include Rosie's own doodles and notes, will be perfect for all budding inventors!
---