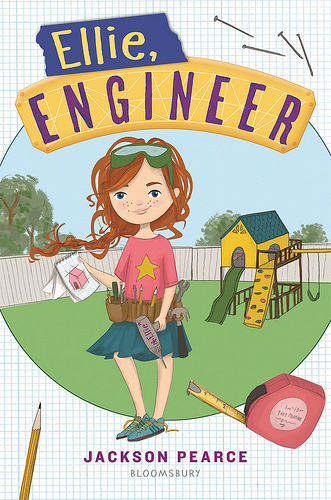 Series: Ellie, Engineer
Author: Jackson Pearce
Illustrator: Tuesday Mourning
Publisher: Bloomsbury Children's Books
Publication year: 2018
Age range: 8-12 years
Number of pages: 208
---
I really enjoyed reading "Ellie, Engineer", which is the first book in a series by the same name, written by Jackson Pearce.
The story has great characters, funny situations (like chasing of a dog wearing a pants-scarf and accidental activation of a bug security system) as well as strong messages about gender stereotypes, honesty, team work and friendship.
The main character Ellie is a smart budding engineer. She wears a tool belt over her skirt, considers a cordless drill the best Christmas present and even has her own workshop (technically a playhouse, but if she works in there it's a workshop, right?). Ellie loves building new projects (which she carefully lists in her notepad) and even dreams about opening an engineering company together with her best friend Kit. I especially liked how Ellie was always available to help other people by using her engineering skills.
Ellie is good at finding solutions to difficult problems, but when the initial present she's built for Kit's birthday ends in a disaster, she has only a few days to come up with a whole new present. After a brainstorming session, she has a great idea, but it's so ambitious that she has to ask neighborhood kids for help, even though they don't get along.
This wonderful story with doodle-like illustrations from Ellie's notepad will be certainly loved by all engineering-minded kids! They'll also appreciate a how-to guide at the end of the book, explaining how to use all the different tools that Ellie has.
This is a longer book (around 20k words) compared to similar chapter books (usually 8-12K words) and will be great for kids who are more confident readers.
---