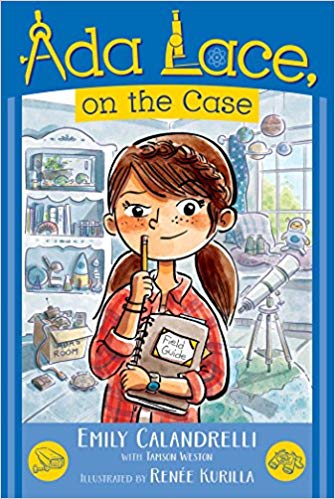 Series: An Ada Lace Adventure
Author: Emily Calandrelli (with Tamson Weston)
Illustrator: Renée Kurilla
Publisher: Simon & Schuster Books for Young Readers
Publication year: 2017
Age range: 6-10 years
Number of pages: 128
---
"Ada Lace, on the Case" by Emily Calandrelli is among the best chapter books I've read!
It's an exciting mystery adventure full of modern technology (wireless camera, tablet, drone, robot) and great scientific concepts, such as Occam's razor and Turing Test, which are introduced in a fun and engaging way.
I really love the main character Ada. This 8-year-old girl has an analytical mind, loves field guides and always refers to scientific evidence. She considers that making cool gadgets (e.g. gecko gloves) and upgrading the old ones (e.g. walkie-talkie) is the best possible pastime.
The story starts with Ada being stuck at home because of a broken leg. The fact that she's just moved to the new neighborhood doesn't help. However, her quiet and uneventful life turns upside down when she meets Nina, a quirky, superstitious girl with all sorts of wild theories. And when a neighbor's dog suddenly disappears, Nina is the only person who can help Ada solve the mystery and find the dognapper. As a result, the seeming opposites get closer and develop a true friendship.
I also liked the wealth of supporting characters – from Ada's energetic little brother Elliott to lovely Ms. Reed – each adding a unique touch to the story.
This chapter book has a lot to be loved for: interesting characters, engaging plot, nice black & white illustrations and modern technology. It'll surely be an instant hit for any STEM-loving kid!
---